pram yang pergi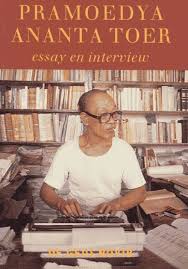 pak pram, selamat jalan…
semalam, di taxi yang mengantar saya pulang dari bandara sepinggan balikpapan ke kontrakan, di sela-sela perbincangan saya dengan supir taxi mengenai rusuh pilkada Tuban dan rencana aksi demo buruh memperingati mayday besok, terdengar sayup-sayup suara penyiar radio yang menginformasikan berita kematian sang Novelis besar Indonesia (yang tidak diakui oleh pemerintah Orde Baru) — Pramoedya Ananta Toer, wafat di usia 81 tahun (Feb 20, 1925 – April 30, 2006).
begitu sedihnya, di tengah obrolan dengan sang supir taxi, saya sempat mengheningkan cipta beberapa detik untuk mengenang beliau dan mengirim doa lirih untuk kepergian beliau ke alam baka…selamat jalan, semoga bahagia di alam sana…amin.
…………
perkenalan pertama saya dengan karya pak Pram adalah ketika saya masih duduk di bangku kelas 2 SMPN 5 Makassar (tahun 1990). Kala itu, guru bahasa Indonesia saya, ibu Risnauli Hasibuan, me'merintah'kan kami untuk merobek salaha satu halaman dalam text book kami yang memuat penggalan paragraf di dalam novel Jejak Langkah. "…pengarangnya orang PKI…" begitu jawab sang guru ketika kami mempertanyakan order tersebut. Waktu itu saya belum mengerti arti penjelasan tersebut, sampai ketika saya kuliah di Bandung dan menemukan penjelasan gamblang dibalik peristiwa 15 tahun yang lalu. Tragis karena merupakan 'pengakuan' yang ter-anulir, namun juga merupakan 'pembodoh'an yang kelewatan.
saya teramat menikmati karya-karya sastra Pak Pram diantaranya Tetralogi Bumi Manusia; Bumi Manusia, Anak Semua Bangsa, Jejak Langkah dan Rumah Kaca waktu masih kuliah di Bandung. Saya menikmati nya, bukan sekedar membaca nya. Buku2 ini mengilhami dan mengusik nasionalisme. Semangat perjuangannya untuk menemukan kembali martabat Indonesia melalui karya satra bertema sejarah membuat saya merasa sangat mencintai Indonesia. Beliau seorang sastrawan yang sejarahwan dan sejarahwan yang sastrawan. Agak sulit menemukan perpaduan sempurna dari dua bidang yang hebat ini. Namun, sayang sekali semangat ini justru yang coba dibungkam oleh Orde Baru. Kemudian sejak itu saya hunting karya-karya pengagum Soekarno ini; mulai dari Gadis Pantai, Arus Balik, Arok Dedes, Cerita dari Blora, Nyanyi Sunyi Seorang Bisu (silent soliloqui) dan lain-nya. Kabarnya, pemerintahan SBY berkeinginan untuk menganugerahkan penghargaan buat beliau.
Pramoedya Ananta Toer has been described as 'Indonesia's greatest prose-writer.' It has been suggested that his art is 'one of immense power and consummate skill; and perhaps the most striking feature of his style is its immediacy. He has the ability to create overtones and a sense of dimension, combined with a remarkable economy.
Everything he writes (in his best works) is living, functioning part of an organic whole; and his studies of the encounters and sufferings of his heroes can only be compared in intensity to those of Dostoevski.
Kata-kata dahsyatnya tentang perjuangan, walaupun gagal..dalam Bumi Manusia.."Ya, Ma, kita sudah melawan, Ma, biarpun hanya dengan mulut."
["Yes, Ma, we fought back, Ma, even though only with our mouths."]
Selamat Jalan Pak Pram….(sedih…)
Prams' website: http://id.wikipedia.org/wiki/Pramoedya_Ananta_Toer or http://www.geocities.com/ticoalu2/index.html
One Response
Dear Mas Daeng,
I'm not really a novel reader. But I've read some of Pram's novels. And it shocked me too to hear his death yesterday evening from TV.

Mudah2an Pak Pram sekarang bahagia selamanya, diampuni segala dosanya dan diberikan kekuatan bagi keluarga yang ditinggalkannya. Amin..